During a recent sermon series at King's Church, we have been taking a fresh look at the Five Solas of the Reformation. In that time, we have drunk deeply at the well of salvation and seen the Lord Jesus Christ and His power to save in new and fresh ways. It has been a joy!
I hope the series can be a blessing to others also, and so make these sermons available here.
Sola Scriptura: Sermon: The More Sure Word
Sola Fide: Sermon: The Heart of the Gospel
Sola Gratia: Sermon: Every Christian is a Miracle
Solus Christus: Sermon: Federal Headship – Adam and Christ
Soli Deo Gloria: Sermon: The Meaning of Life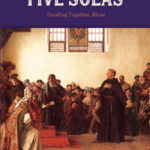 The eBook and Audio Book Version of my new book is also now available at this link.
God bless,
John